...or 'we finally went grocery shopping!'

This month has been go-go-go and I am loving it, but the downside is that we haven't prioritized domestic basics. We've gone camping almost every weekend and have various social engagements throughout the work week, be it sports, gymtime, happy hours, etc. I know, boo hoo. I'm definitely not complaining. However, it felt so refreshing to go nuts at the market yesterday so that we could eat at home more, for all the day's meals. Gabe and I eat vegetarian at home so we stocked up on fresh vegetables {hello! it's summer!} and basics like pastas, potatoes, wine. Of course wine is a basic, how dare you question.

I love wine. Winey wine wine. Here it goes down. Down into my belly. Mmm mmm mmm.

Since it is summer, and it is warmer than I expected today {read: didn't think I needed to shave my legs, so I wore pants} I felt like making a cold and raw dinner. That sounds odd. I just mean I didn't want warm food. I was starving after my hair appointment, so naturally I chose to spend an hour to prepare dinner. All that chopping of vegetables and blending of saucey goodness was worth it, and I snacked on some veggies while I was prepping, so I lived.

You know when you make something and you are so freaking proud of yourself? It doesn't even have to be something all that significant, but you know that is rocks and you are awesome! {Assuming you are viciously nodding your heads} That is how I feel about the dinner I just made. And enjoyed solo. Solo supper. Don't feel sad, I had wine. What is that rule about not drinking alone? Pssshhhh.

Peanut Sauce:
1/2 c natural peanut butter
1/2 c milk
3 T freshly squeezed lime juice
2 T packed brown sugar
1.5 T low sodium soy sauce
2 T Asian chili and garlic paste
1/3 c orange juice
KS&P to taste

Cups:
Several butter leaf lettuce cups
radishes, thinly sliced
yellow bell pepper, julienned
button mushrooms, caps only and thinly sliced
fresh basil, chiffonade
alfalfa sprouts {cuz they're awesome!}
mixed vegetable salad {slaw of cabbage and carrots and such}
toasted sesame oil
rice vinegar
teriyaki tofu, chunked


First blend all the ingredients for the peanut sauce in a blender and set aside. Then toss all ingredients, except for the lettuce cups of course, in a bowl and drizzle some sesame oil and rice vinegar to taste. I normally press and marinate my own tofu, but I grabbed some
Wild Wood baked teriyaki sprouted tofu
at the store and was eager to try it. So yummy! I highly recommend it. Their brand makes all good stuff. Then, fill your cups with the goods and top with peanut sauce. The most important step is this one: Open and pour yourself a glass of
Bogle Chardonnay
to enjoy with your lettuce cups. I mean it. Speaking of, time out...tank's empty.
...
Okay, I'm back. Bogle is a local and a favorite wine of mine. I went to school with the Bogle boys, and their vineyards
dominate
are located in the Delta. Nugget had the chard on sale for $8.99 so I grabbed a couple, which is not nearly enough. Sorry babe, I know you said you weren't going to drink in preparation for climbing that undisclosed mountain, but that doesn't mean I am going to cut back out of sympathy. Love you!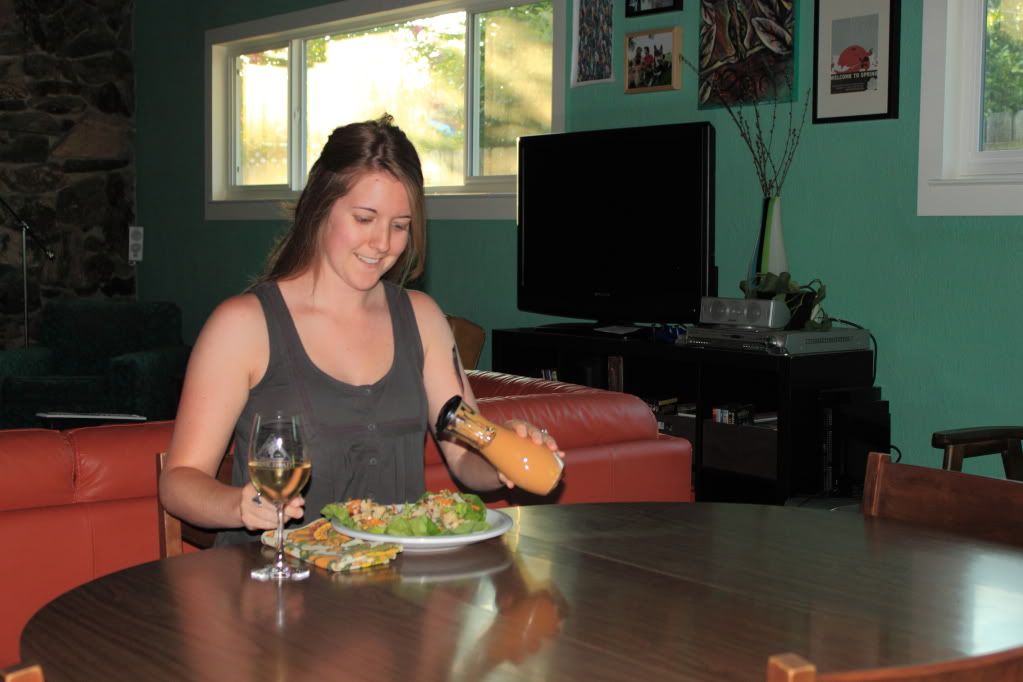 Oh man, this peanut sauce! I made extra so I could pour it over anything and everything.
What have you friends been proudly making these summer nights? I'd love to hear! And even more importantly, what wines are you drinking right now? Summertime is primetime for white varietals methinks. Give me a delicious and chilled Sauvignon Blanc and/or Chardonnay, or perhaps a Viognier, and I will be happy as a clam. Why do they say that? A clam? Is it because the split in their shells is shaped like a smile? I wonder.